Rescue Squad & First Responders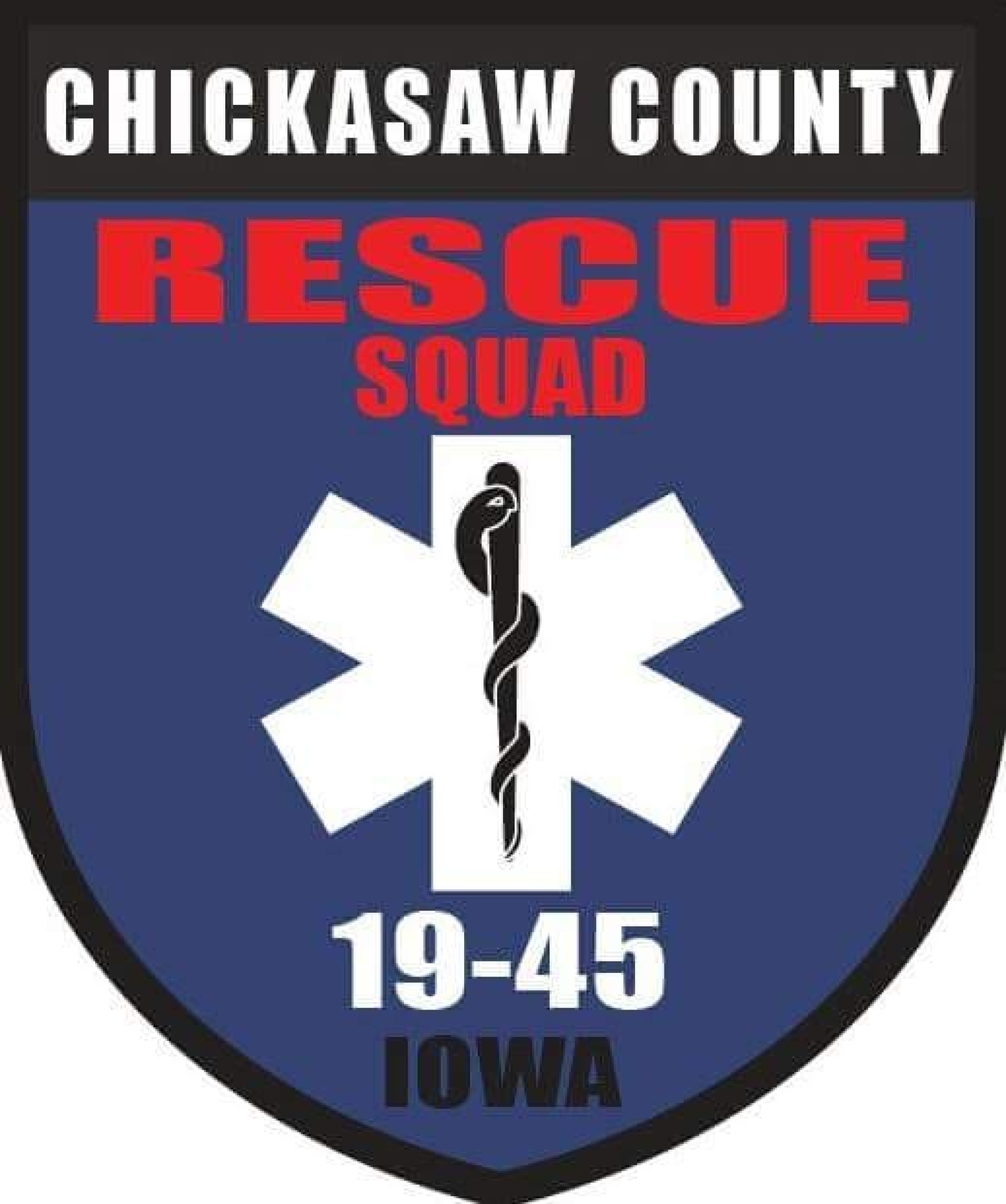 Chickasaw County Rescue Squad is a sub-agency of the Chickasaw County Emergency Management Agency and was started in the early 1970s. The Rescue Squad is composed of approximately 50 paid-on-call volunteer individuals that are highly trained in specialty types of rescue including; hazardous materials, vehicle extrication, agriculture extrication, grain bin rescue and recovery, water rescue and wide area search among other specialties. Rescue Squad responds to nearly all incidents within Chickasaw County to supplement the response of local agencies. Rescue Squad is the home base for the countywide First Responders in Chickasaw County. As listed below, there are state-certified Emergency Medical Responders in or around every town in Chickasaw County. First Responders are the ones that show up in your time of need before the ambulance arrives.
The Rescue Squad is continually looking for dedicated individuals to become a part of the team. Please contact us at chickasawrescue@gmail.com or 641-394-2406 to learn more.
Rescue Squad Officers
Jeff Bernatz - Service Director
Brannon Anderson - Rescue Chief
Abe Karels - Assistant Rescue Chief
Garrett Raum - Truck Captain
Bridget Edson - Training Captain
Dawn Heying - Secretary
Penny Corbitt - Treasurer
Heavy Rescue 251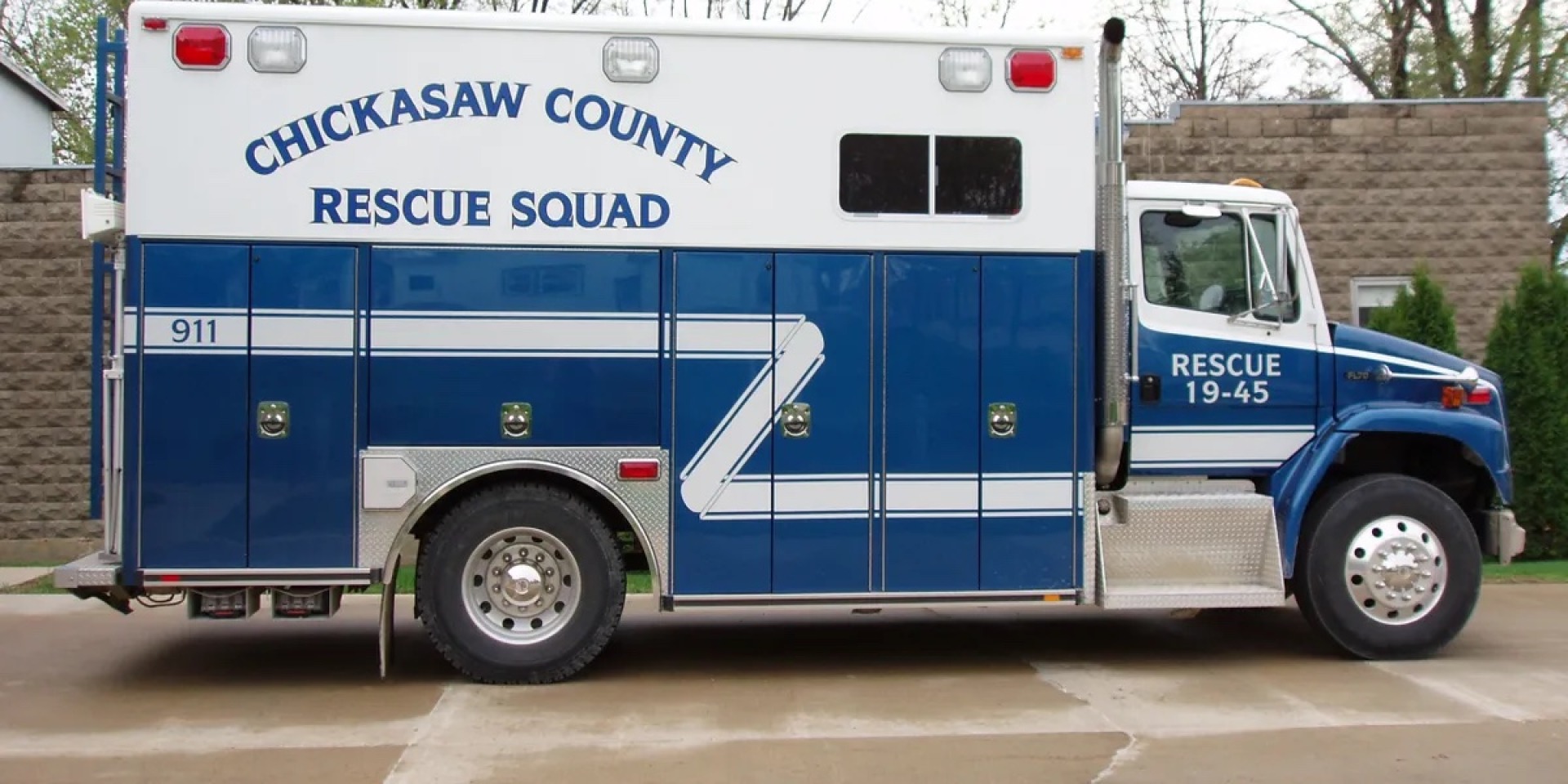 Heavy Rescue 251 is Rescue Squad's primary response vehicle and was acquired in 2002. 19-45 carries several specialty tools including; two sets of extrication tools (Jaws of Life,) hydraulic rams, lifting airbags, self contained breathing apparatus (SCBA,) medical equipment, AED, backboards, stokes basket, cribbing, grain bin rescue equipment, stabilizing jacks, a full size tool box, several generators, scene lighting equipment and much more.
Rapid Response 252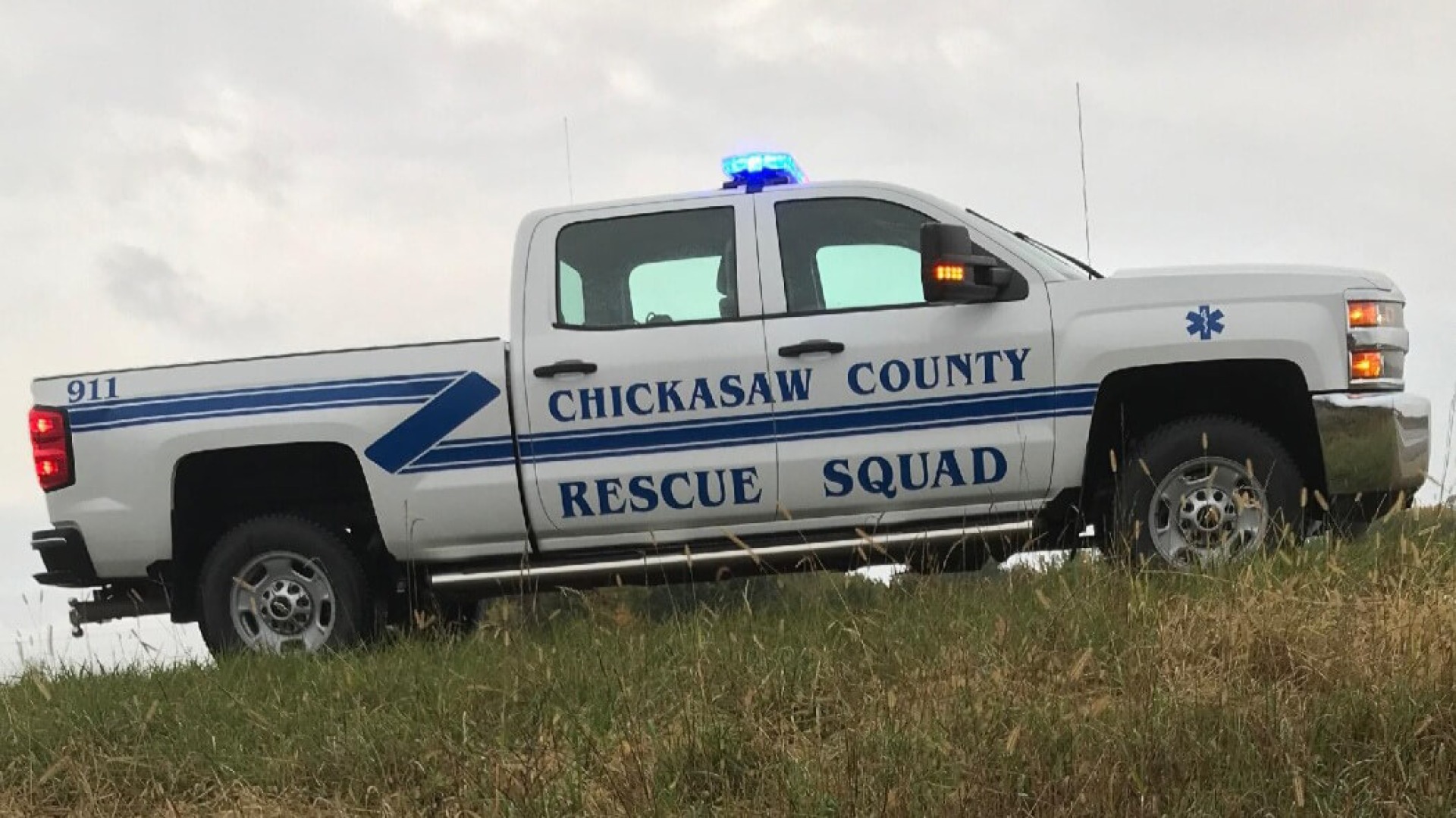 Rapid Response 252 is primarily used for towing by the Rescue Squad. Unit 2 was acquired in 2016. Rescue Squad frequently supplements the Emergency Management Agency with pulling and operating emergency management equipment. Rapid Response 252 carries basic medical supplies and an AED.
New Hampton
Brannon Anderson - EMT
Jeff Bernatz - EMT/FF
Glen Geerts - RN
Kevin Geerts - EMR
Michael Graves - FF
Dawn Heying - EMT
Jordan Holthaus - EMR
Nickolas Jurgensen - EMT/FF
Joel Knutson - CCP/FF
Rick Kramer
Matt Kuhn - EMT
Zach Nosbisch - FF
Alan Papousek - EMR/FF
Ken Rasing - EMT
Jason Rude - EMR/FF
Joshua Schuchhardt - AEMT
Joshua Schwickerath -EMR
Timothy Shank - EMT/FF
Adalberto Uribe-Vazquez EMT/FF
Brock Schmidt - EMT/FF
Shyla Reimers -EMT
Fredericksburg
Garrett Raum - EMT/FF
Tisha Morris - BSN
Kathy Bartels - EMT
Jason Scanlan - EMT
Nashua
Matthew Blaess - EMT
Carly Clinton - EMT
Cheryl Dettmer - EMT
Terra Hillegas - EMR
Lidsey Johnston - EMR
Dannon Mohs - EMT
Jon Seible -
Tyler Sedivy - EMT
Cindy Shoemaker - EMT
Rick Sinnwell - EMR/FF
Zenda Vikturek - Paramedic
Brookelynn Gerber - EMT
Shelena Pascual - EMT
Karagan Fisher - EMT
Toni Nelson - EMT
Tabatha Corathers - EMT
Melissa Sudol - RN
Alta Vista
Abe Karels - EMT/FF
Alan Kolbet - FF
Toni Friedrich - RN
Earl Martin - EMT/FF
Ashlyn Laures - EMR
Calvin Zimmerman - EMR
Ionia
Bridget Edson - EMT/FF
Tim Phillips - EMR/FF
Stephen Hyer - EMT/FF
Lawler
Jack Orvis - EMR/FF
Joseph Raymond - EMR
Brenda Mueterthies - RN
North Washington
Penny Corbitt - EMR
Kelsey Glaser - FF
Resources